So you don't want to use any google chrome extension to kick Youtube from your browser, right? 
Don't worry because you're going to learn a complete post on how do I block Youtube on Chrome without an extension. 
In this post, I'll share the top 4 requisite regimens to block not only youtube but also any website without installing a Chrome extension on your browser, 
In the end, I will also share a guide on how you can block any website on your mobile from the Google Chrome browser without installing any app or getting help from any third party services. 
How Do I Block Youtube On Chrome Without An Extension
The great alternative of blocking Youtube on Chrome without an extension is by using Chrome's built-in site setting. The setting will allow you to change multiple permissions for a website. 
You can simply block Youtube by blocking the javascript file loading preformation from the setting. When you block the setting, Youtube will not be able to load any javascript file and in the end, Youtube will be blocked on your browser. 
Here's the practical guide on how to block Youtube using Google Chrome's default setting. 
(First Method) Blocking Youtube On Chrome Via Chrome's Built-in Feature: 
Step #1: First, open your chrome browser from your computer by clicking on the icon:
Step #2: type "Youtube.com" to access youtube directly on your browser or search on Google. 
Step #3: Once you're on Youtube, take a look at the lock icon in the input box. Click on it. 
Step #4: There you'll be able to see three options, the connection is secure, cookies, site settings. You'll need to click on the "Site setting". 
Step #5: As soon as you click, Chrome will take you to another page where you can see a lot of setting options for only Youtube.com.
Step #6: From the various options, you have to only find an option named "Javascript". This setting can be found under Notification and at the top of the Image.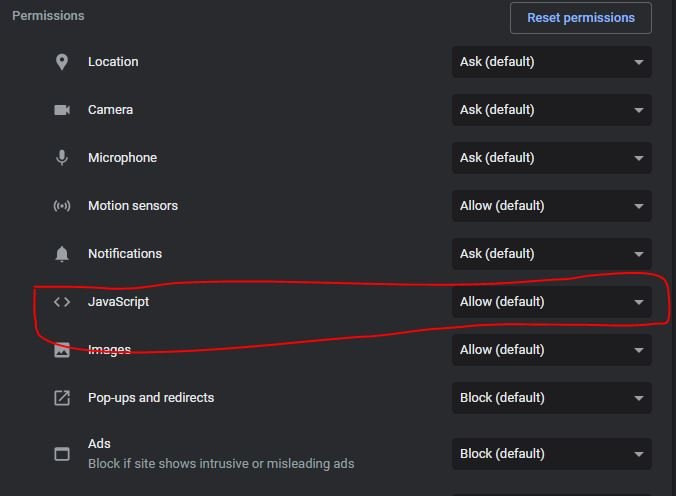 Step #7: Click on the "Allow Default" and then Block. This action will force the browser to block all the JS files from Youtube's server. 
If you now go to Youtube.com and refresh the page, you'll notice that Youtube is only showing the preloader page, nothing more than that. 
When you need to unblock Youtube.com, you can simply follow the same steps to do that. 
Open Chrome and go to Youtube. 
Click on the Lock icon and then the site settings. 
Find Javascript and make it "Allow".
(Second Method) How to Block Youtube On Chrome Without An Extension? 
The next method that we're going to show you is a computer app named URL Blocker. This URL blocker application will allow you to input the website URL that you want to block from your browser. 
The URL Blocker application is made for blocking multiple websites at once and since the app is perfectly designed for Chrome, you can add the Youtube.com domain name on the program and the system will start hindering Youtube.com. 
Here's the process:
Since the app is not available for web users, you have to download the application first and then install it on your PC. 
Install it and open it. 
Click on the "Add" button to add an URL. 
Copy youtube.com from your browser or directly type the domain with .com extension and click on add. 
The URL has been added to the system and if you now go to your Chrome browser and reload Youtube, you'll be not able to access Youtube as the system blocked the link. 
(Method Three) How Do I Interrupt Youtube.com On Browser Without An Extension?
If you're a wifi user, you have a great option to block Youtube or any other websites. The process can be easier if you have a little bit of knowledge about how to control a router for internet access. 
Most router and internet service providers allow the option to block any adult websites for user convenience. 
Since we don't know which router you are using currently, you can search online by typing your router name. The search term should be like this "How to block websites on [Your Router Name]". 
You can simply log into your router and go to the parent control panel to access the setting. You'll see a proper guide on how to add a URL and block a website. So it can be done yourself if you're a technical guy.
From the same setting, you can also set a certain time to block a website, meaning you can specify how long your blocked website will remain blocked.
Since the topic is a little bit technical, guiding you by only text and images would not be an ideal job! Watch the video below to know how to block not only Youtube but also Facebook, Twitter, Google, and any websites easily. 
How do I block YouTube on Chrome?
Disabling or blocking Youtube is now a widely discussed topic worldwide due to the massive growth of Youtube. You can follow multiple steps and methods to block Youtube on Chrome. 
The best method to do that using the built-in option on Chrome. Due to the latest update of Google Chrome, now users can easily block separate file access for a specific website. 
You can click on the lock icon from Youtube.com and open the site settings to see the page to change the access. Find Javascript access for Youtube and block the access. After perfectly making the change, reload Youtube and see the magic. 
How do I block YouTube on schools without Chromebook extensions?
To get the best result for this issue, we'll suggest you use Chrome's site access blocking feature on your Chromebook. Since Chromebook is powered by Google, this technique will perfectly work on your Chromebook. 
Click on the SSL certificate icon on Youtube > Site Settings > Block Youtube's Javascript access. 
Image 7
How do I block YouTube on my son's computer?
If your son is smart enough, you should use a strong method to block Youtube so that he can not unblock the URL without your permission. 
In this case, you can use your router as a Youtube blocker. What you will need to do is simply log into your router admin panel and then parent control. The next step is to add (youtube.com) to the input box and save changes. 
This will block Youtube from your IP address. No one even your son, will not be able to access Youtube unless you remove the URL from your router's admin panel. 
To ensure more security, you can set a strong password for your Router so that your son can not access the control panel and remove the blocked URL to access Youtube again. 
Conclusion: 
Installing extensions on any browser can make your internet using experience heavier as most extensions consume a lot of CPU resources. So follow our guide on how do I block Youtube on Chrome without an extension.