Adding interests on LinkedIn means they will let people know that you have a life outside your jobs. So knowing how to change interests on LinkedIn is essential for every job seeker on the platform.
In addition to knowing the changing method, you have to also know how to add and remove interest on LinkedIn so that you can control the entire settings to become an active user on the website or the app. 
In this guide, we'll cover almost everything about the interest settings on LinkedIn and also share some useful tips and tricks to make you an ideal job finder. 
How To Change Interests on LinkedIn? 
You will be only able to change your interests when you unfollow the page or leave the group you're currently joining. 
Since you're only allowed to add interest by following a page or people or joining a group, there is no way to add interest by inputting text on your LinkedIn profile.
Also Raed:
Here's the guide on how to change interests on LinkedIn (From Computer)? 
Step #1: Log into your LinkedIn account by visiting the official LinkedIn website. 
Step #2: After successfully logging into your account, visit the main profile page and scroll down to find the Interest section.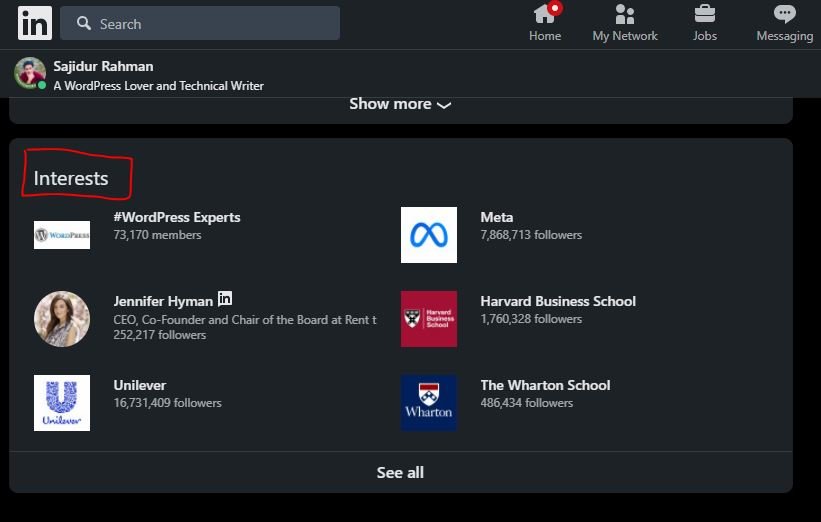 Step #3: In this section, you'll see all your connected Influencers
Companies, Groups, Schools. It means you have followed them or joined the groups. 
If you notice at the intertest system on Facebook, you'll see that Facebook allows people to add interest by inputting texts and the interests are visible on the profile page separately. Like the image. 
However, in the case of LinkedIn interest, you'll see the interest section in a different view. Your interests mean the people, group or school you're following on your profile. 
Step #4: Click on "See All" to view all your interested things, meaning all the profiles, groups, and people you're following.
Step #5: You can click on each section dedicated to seeing who and which things you're following and are interested in. 
To change your interest, you can click the "Following" button and unfollowing the page or person is the only way to change Interests on LinkedIn.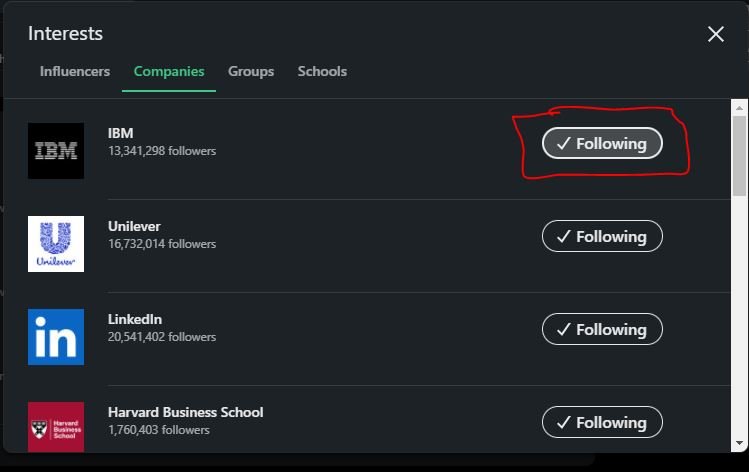 Interests on LinkedIn Profile: 
Interests in LinkedIn means that the page, companies or groups you're interested in. The section is divided into four sections.
Influencers: This section will only show you the Influencers that you're following. 
Companies: the organizations that you're recently followed on your profile.
Groups: The groups that you're currently following.
Schools: All the online school-based pages or organizations you're following.
How to Add Interests on LinkedIn? 
Your following pages, groups, schools, companies, or Influencers will be added to your interested list on LinkedIn. So the more you follow, the more your interest will be on the list. 
To add interest,
Step #1: Log into your account to find pages, companies, or groups.
Step #2: look at the top right corner from the home or profile page to see the search box to type any names to follow. 
Step #3: Search for anything. For example, we're searching for WordPress. Let's see what happens. 
Step #4: As you can see in the image, we have searched WordPress and LinkedIn and showed us a lot of options and some of the most relevant search results based on our query.
You can also filter out to get the exact result as you want from the search. By clicking on "Companies" means you're only looking for some companies' profiles to follow and add to your interest list. 
We're going to click on the Companies tab and see some WordPress Development Related Organizations.
Step #5: We have found some companies and if we click on the follow button, the company profile will be automatically added to my Interest link. You can also find the same button by clicking on the particular page.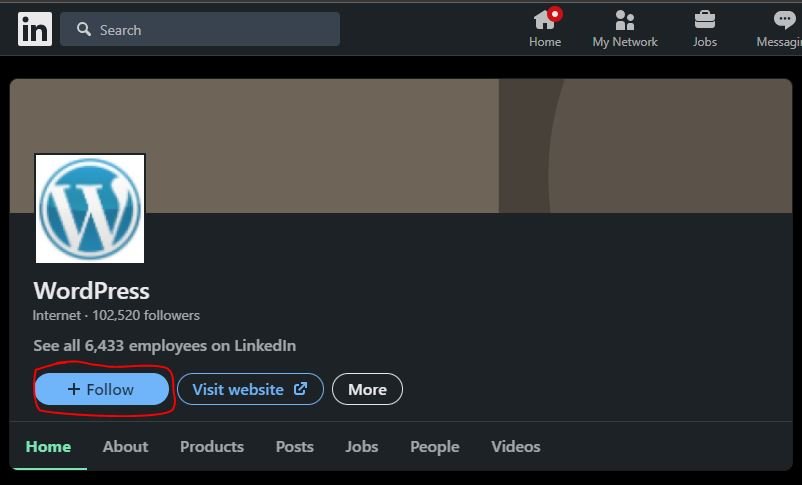 Step #6: After clicking on the follow button, if we go back to the interest section on my profile, we'll see that the recently followed company page is now showing on the section. 
How to Add and Remove Interests on LinkedIn (A Video)
Why Can't I Edit My Interests On Linkedin?
The "Interest" feature in LinkedIn is not like Facebook or other social media platforms. You will not be able to change the option, but you will be able to unfollow it by going to that page or from the "Interest" setting.
How do I remove interests in LinkedIn?
Unfollowing one of your interests on LinkedIn means you're going to remove the interests. You can remove an interest by going to the interest section and clicking on the "See All" button and then clicking on the "Following" button.
Also Read:
Can you hide interests on LinkedIn?
There is no option that can give you the ability to hide the interests section on Linkedin. However, if you seriously want to hide the section from your profile, you can unfollow all the interests so that LinkedIn won't display the section on your profile.
Should you put hobbies on Linkedin?
Your hobbies will act as your personal preference. So putting hobbies on LinkedIn is one of the great ways to share your most loved activities. 
If job recruiters know about your hobbies and match the work with their industry, you'll surely be hired to their company!
Summing-Up: 
Changing, adding, and even removing interests on LinkedIn is a matter of time only because you don't need to do any additional things to do the work. You just need to unfollow a company's profile or leave a group to remove interests. 
On the other hand, You can follow a page, join a group to add particular things to your interest list. We hope you enjoyed the complete post on how to change interests on LinkedIn and now know how the feature works.