If you're a clean user on youtube and wondering how to block youtube videos that can be harmful or offensive to you, this guide is only waiting for you. 
Although there are unlimited methods to block or unfollow a specific type of video from your Youtube feeds.
We'll only share the 5 easiest methods to make the process easiest and time-saving for everyone. 
Note: Blocking a video on youtube means you will no longer see that blocked video from the channel. However, you can again unblock the video from your setting to watch that video. 
How To Block Youtube Videos?
Blocking a specific video on Youtube is not possible and even Youtube doesn't allow its users to directly block a particular video. However, Youtube will allow you to mark your unwanted video as a "Not interested". 
When you make a video as a "not interested video", the algorithm of Youtube will think that this video is not helpful or important for you and from that time, Youtube will block the video only for your account. 
Another great option that Youtube made for its users is the "Don't Recommend Channel" feature. This option can be found on every video available on the platform.
When you click on "Don't Recommend Channel", Youtube will assume that you're not feeling good watching content from that particular channel.
However, we'll suggest you directly block a channel where you find harmful and useless content so that when the blocked channel publishes a video, those contents do not come to your wall. 
This is the permanent solution to protect yourself from watching bad or unexpected content on Youtube. 
Below we have managed the top 5 methods to block a Youtube channel. However, the first section will show you how to mark a bad video as "Not interested" to remove the content from your feed.
Method (1) How to Mark a Content as Not Interested on Youtube to Block a Video From a Computer? 
First, open youtube on your favourite browser.
Search for a video as an example.
Click on the Three-dots icon on that video.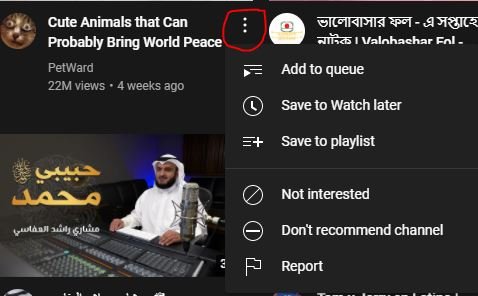 Then click on the "Not Interested".
When you click on the option, the video will be removed. You can also undo the video or tell youtube why you did that. 
Method (2) How to Mark a Content as Not Interested on Youtube to Block a Video From a Mobile? 
Doing the same thing on your mobile device is super easy. Follow the guide below to block or remove a video from your Youtube feed. 
Open the Youtube app and from the homepage, look at the video you want to remove. 
Click on the three-dots icon. 
Click on the "Not interested text" to remove or block the video.
Method (3) How To Block a Youtube Channel?
When it comes to blocking a Youtube video since youtube doesn't allow you to do it directly, better you block the channel of the video. 
Blocking a Youtube channel is a little bit complex compared to removing a video, however, following the below guide will ensure the process is quite simple. 
Blocking a Youtube Channel on Computer:
Step #1: open youtube on your computer either via a browser or the Youtube application. 
Step #2: from the search box, search the channel to find the channel you wish to block. 
Step #3: click on the channel name when you find it by searching.
Step #4: When you're on the channel, find "About" and click on it to access the user blocking page. 
Step #5: Click on the flag icon to open more settings. After clicking on it, you'll notice an option named "Block User". Hit on the text to block the user.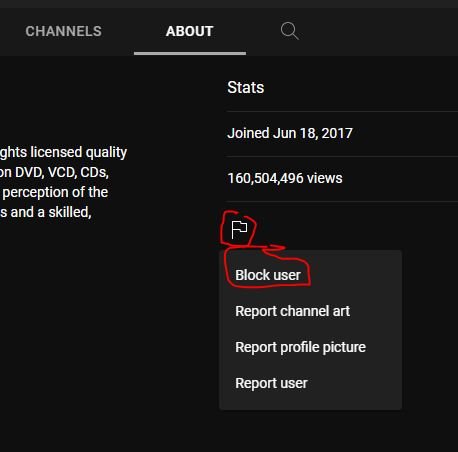 Step #7: after clicking on the "Block User" option, you'll be asked to click on the "Submit" button to finish the process.
If everything goes well, from that time, Youtube will not suggest any connected published by the blocked channel on your feed. 
If needed, you're always open to unlocking the user to let the channel show videos on your Youtube wall again. Simply go to Channel > About > Flag Icon > Unblock user. 
Blocking a Youtube Channel on Mobile:
Open the Youtube app and go to the channel you wish to block. 
You can click on the three-dots icon from the top right corner instead of going to the about page. 
Click on the Block User, and again (Block).
Method (4) Block a Youtube Video Using Browser Extension?
Extensions are just amazing supportive things on a browser like Google Chrome, Firefox, Brave, ETC. we know about a great extension that will allow you to easily black a video from your watch list. 
The extension is Youtube Blocker. The extension is available for most well-known browsers, so install it and open youtube. 
Notice your sidebar while watching a video. You'll see all the videos on the sidebar are coming with an addition crossing icon like the image:
To block a video with the channel that published the content, simply click on the crossing red icon. This will block the channel and video as well for a lifetime from your account. 
The block channel name can be found on the extension setting page. To view the channel names, click on the extension. 
See in the image, I have blocked some channels for an example for this guide. I can also unblock the channels by clicking on the (-) icon from the extension setting page. 
Method (5) How to Block Youtube Video For Kids?
Your kids are your assets, so you will never and ever want to let them watch any harmful content on youtube, right?
You may follow the already shared guide to block content on youtube for your kids. However, these are not the perfect solution for children as Youtube offers a complete solution for kids. 
Youtube offers a great service named "Youtube for Kids". This platform only publishes useful and educational types of content that can help your kids learn something new about everything by watching videos.
There is no harmful and adult content. So your kids will only be able to watch content that is useful for them. Visit the site youtubekids.com or download the app on your phone to set up the kids watching settings for your children.
How do I block YouTube on Chrome?
You can primarily follow two shortcut ways to block youtube on chrome. The first one is using AppCryp on your computer, and the other one is using an extension for Chrome browser named Personal Blocklist. 
The first method is easy as you only need to download the app and set a password. And the next step is going to Web Block and entering the URL for Youtube.com and adding the link block to the particular site. 
On the other hand, add the "Personal Blocklist" Extension on your browser and add Youtube.com as a blocked website on your browser. 
Can I block YouTube on the computer?
Blocking Youtube on the computer is easier than blocking it on mobile. You simply need to use an extension or a computer application, and finally, add youtube.com to the program to block the URL.
How do I block Youtube without blocking Google?
When you use extensions like Personal Blocklist, you'll only block Youtube.com, not Google. So blocking YouTube has nothing to do with blocking Google as Youtube has a separate domain name and Google too.
How do I block certain videos on YouTube?
Blocking certain videos on Youtube is not a complicated task. You can simply search for the video you want to block and click on the three-dots icon and then "Not interested" or "don't recommend the channel".
Can you block anything on YouTube?
Youtube will allow you to block videos, channels, and since these are everything on the platform, it means you can block everything on Youtube. 
In addition to these, you may also find comments, Youtube also allows the user to block an individual user's comment on a video.
Conclusion: 
Remember, Youtube is now the largest video sharing platform where you can find different types of content. However, not all contents are good for you. There are some categories of videos that can unusually annoy you. 
To protect yourself from watching those videos, you need to know how to block YouTube videos and this is where our comprehensive guide comes in. read the complete post to know the topic well and block or remove videos that you don't want to watch.