Mentioning a person or company not only on LinkedIn but also on any other social media platform grows their renown. You may want to tag an organization for any reason. 
If you're a LinkedIn user and looking for a step-by-step guide on how to tag companies on LinkedIn, this guide can help you to successfully tag any companies that are existing on the platform.
How To Tag Companies On Linkedin?
The process of tagging a company on LinkedIn is quite easy. However, if you're a beginner user on the platform, follow the short guide below.
How to Tag Companies on LinkedIn from Computer? 
Step #1: Open your favourite web browser and go to linkedin.com. Once you're on the homepage of LinkedIn, hit the Login button at the left corner of the page.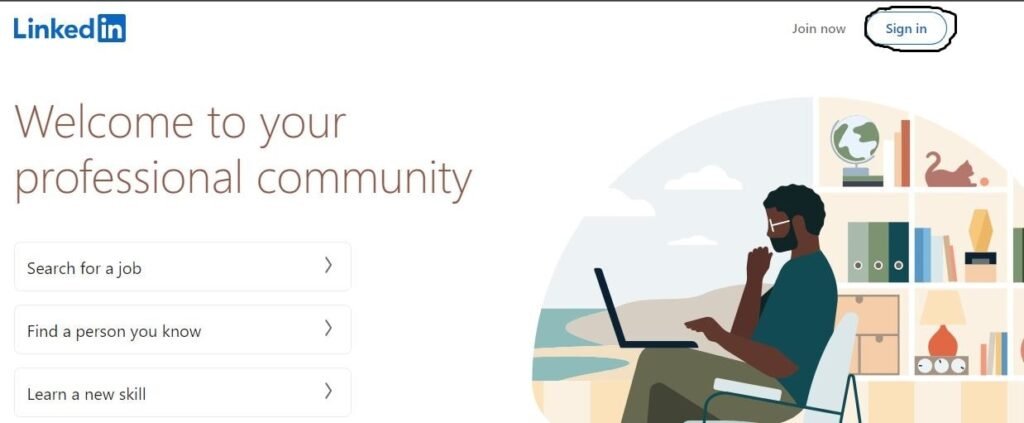 Step #2: Clicking the page will redirect you to the login page. If you frequently log in and log out from Linkedin on the same browser, the platform will save your information to make your next login process much easier. 
If not, provide your email address and the right password to access your profile. 
Step #3: Once you're on your profile home page or the primary page, click on the "Start a Post" box to start writing something about today. 
Step #4: Write what you want to show the world. first, middle, or last section, you have the ability to tag companies at any position on your post. Once you notice you need to mention a company while writing the post, simply type @. 
Once you try this symbol, the system of LinkedIn will suggest a lot of related company names or business profile names. 
As you can see on the mentioned image, we have started writing the post and at the end, write the @ symbol. The system has shown us some of the related page or profile names. 
If we click on any of the suggested names, the profile or page will be linked with our post with a clear name-view, meaning the @ symbol will no longer be visible. See the image. 
As an example, we have mentioned Upwork, the organization name is now only visible with the primary name, and there is no @ sign. 
Do you want to add more company names to your post? It's easy too. After typing the first company name, press the space button and then again try to type @ and the first word of the organization name that you want to mention in the same post. 
Note: Linkedin says that users can tag up to 30 companies or public profiles in one post. We don't think you need to mention more than 30 names in a single post. 
Remember that once you tag a company on your LinkedIn post, the company will get a notification that let them know who tagged them and where this happened.
How to Tag Companies on LinkedIn From Mobile? 
There is no difference between tagging a company on LinkedIn from a computer and from mobile. The difference is you'll do the same thing on the LinkedIn mobile app. 
Here's the process: 
Go to the app and from your profile, select start a post. Start writing something about the company you would like to mention in your post. At any point, type @ and write the first few words of the company to see the suggestion.
If suggestions are seen, simply press your finger on the text. The company will be mentioned in your post automatically. 
What is Tagging on LinkedIn? 
The term "Tag" is used in LinkedIn as an information mechanism that allows representing a profile or page name.  
You can mention or tag a company profile or an individual profile in your post to show the mentioned name to your connection on LinkedIn. 
Why Should You Tag a Profile or Company on LinkedIn? 
The tagging system on LinkedIn is playing a vital role in encouraging engagement with LinkedIn's posts. Users use the Tagging system when they need to highlight an external profile owner's credit.
So if you do a lot of social media activities and need to mention a person or company name with your posted photo or text, wanting to use the tagging feature on the platform might be a big thing for you.
What Do You Do When Someone Mentions You On Linkedin?
You should first check where you're mentioned and also check what type of the post was. If you notice that the post is fine and there is nothing wrong, you can comment on the mentioned post to let the author know that you're happy to be a part of that post.
There is no chance that people tagged you but you didn't get any notification because the LinkedIn notification system will immediately send a notification when a user tags you in a post.
You can also share that post, like, comment to increase post engagement. Sharing the mentioned post again on your profile would be much better to get more likes and comments from your LinkedIn connection. 
How do I block someone from tagging me on LinkedIn?
Yes. Every social platform like LinkedIn has the same option to block someone from tagging or mentioning. To block the user who tagged you on Linkedin, go to your profile > Setting > Mentioned By Others > Turn the Switch off.
As you want to become a professional person on LinkedIn, you may not want to give access to someone who can easily tag on his post without letting you know. The best practice to block users from tagging is by turning off the mentioning setting. 
How do I see mentions on LinkedIn?
Mentioned texts or names look a bold and different colours so that you can easily know who linked your LinkedIn profile. 
However, the best way to see who mentioned you on LinkedIn is to check your notification. LinkedIn will instantly send you a notification when anyone links your name or profile on their post or comment. 
Conclusion: 
How to tag companies on LinkedIn is one of the most common queries we see on the internet. However, when you want to tag a company, make sure you have properly followed the shared guides.