Unblocking someone on Pinterest is a quite simple task because there is no need to know any additional things to block a user. 
However, if you don't know how to unblock someone on Pinterest, this simple job can take a long time to complete. 
In this post, I have solved the issue and made the process easier for every Pinterest user. 
After completing the article, you'll have a proper knowledge about blocking and unblocking Pinterest users with a few clicks and less effort. 
How To Unblock Someone On Pinterest From A Computer?
Shortly: Log into your account and go to that user profile who you have blocked, scroll down to find an option called "Unblock", click on it to unblock the user.
Having a Pinterest account is the first requirement to block or unblock someone on the platform. I know you have one!
Well, the next thing is you have to block someone before unblocking the user on Pinterest because unless you block someone, Pinterest will not allow you to unblock the user. 
The next requirement is you need to have a valid and verified account. Since you're reading this guide, that means you have a valid account and you already blocked a user. 
Then follow the practical guide below:
Step #1: Open your browser to access pinterest.com and at the same time, log into your account with the right credentials like username/email address and password. 
Step #2: If you have already blocked an user on Pinterest, you can find that profile by remembering and searching the name of the profile on Pinterest. 
Finding that blocked profile is one of the main challenging parts for those who don't remember that name. 
It would be a good thing if Pinterest added a feature where users can see how many accounts a user blocked so that users can easily find their previously blocked account to unblock.
Assuming you have found that profile. Now scroll down a bit and find a button named "Unblock". Look at the image below: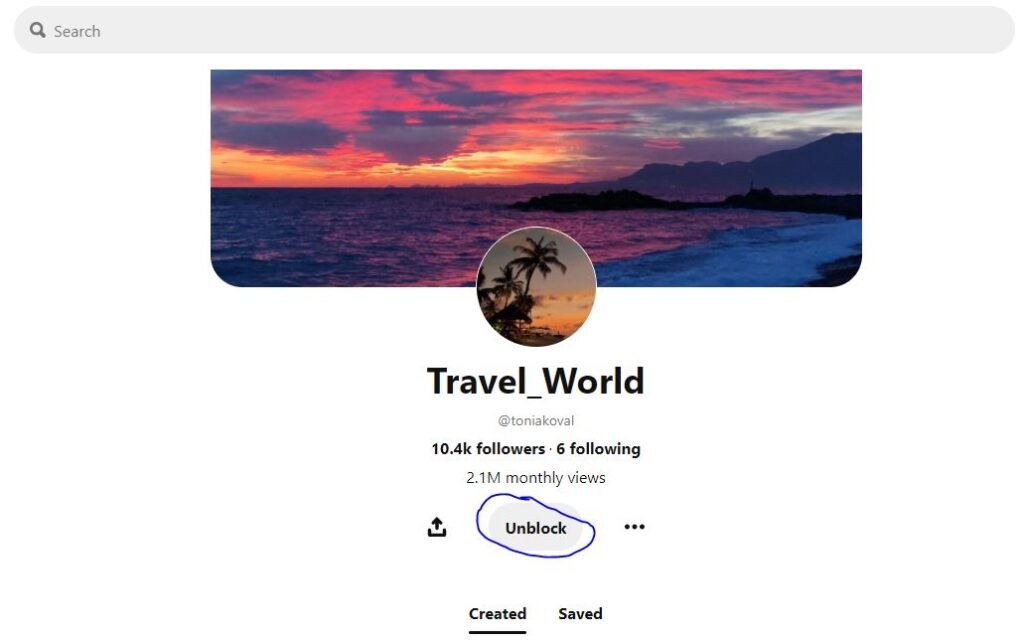 Step #3: Hit on the "Unblock" button. It will not take a single moment to unblock the account. As soon as you unblock the profile, the name of the button will be changed into "Follow" button
How To Unblock Someone On Pinterest From An Android Mobile?
Once you know the unblocing process from a computer, solving the same issue from your Pinterest mobile app will be a matter of time. 
If you're using the Pinterest mobile app and don't know how to unblock someone on Pinterest android, look at the guide below:
Step #1: Make sure you're in the right Pinterest account and also make sure that you have already blocked at least one user on Pinterest either from the app or a computer. 
Step #2: Use the built-in Pinterest powerful search feature to find the user. If you can't remember the name, take time and remember the name slowly. 
Tips: If you have blocked the user from your computer using a browser, you can check your browser histories if they have not been deleted yet. 
Step #3: Once you find the user, scroll down to find the "Unblock" button. Tab unblock to confirm unblocking the account. 
How To Unblock Someone On Pinterest From An iPhone?
When you know the process from an android phone, meaning you know the core of the job. 
Simply open your iPhone and the Pinterest app > from the profile you would like to unblock, click on … icon and then Unblock.
Pinterest Blocked Users
Pinterests' block is one of its core features that is considered a common feature for users' safety. 
If you look at some of the common and popular social media platforms, you'll see that most of them have the same feature for users' convenience. 
The blocking feature in Pinterest is mostly helpful for business people. Pinterest makes it easier for everyone to easily block an account without the account owner's permission. 
If you see a business that is spamming users, you can block them. To do this, go to their profile and click the three dots in the top right corner. From there, select Block.
After blocking a user, the user will no longer be able to access and see pins and boards from your activities.
According to Pinterest, the users you have already blocked will still appear in your search result, group boards, and feeds. 
Even if you have saved any pins from one of your blocked users, they will remain on your account. You have to manually remove the saved pins from your account.
How to Know if Someone Blocked You on Pinterest?
Pinterest doesn't have any feature that can send a notification when someone blocked an account. So there is no way to know who blocked you on Pinterest. 
However, if you're highly interested to know who blocked you, you can try the following methods to check the issue with your Pinterest account. 
How Can I Tell If Someone Blocked Me On Pinterest?
| | | |
| --- | --- | --- |
| Visit the account | See Pins | Comment |
| After visiting the account, if you notice that you can't follow the user and Pinterest telling you a message like this (Error Following the person).  | If you can't see pins from that user, you can assume that you have been blocked by that user already. | If you can see a pin or board made by that account, try to comment on a Pin. if you can't comment, meaning you're blocked from that person.  |
If you a user on Pinterest blocked you for any reason and you still want to stay connected with the user, you can do the following paths: 
Get help from your friends' Pinterest account, send a message from that account and tell the account owner to unblock your account. 
Find the email address of that person and send an email to unblock you from Pinterest. 
5 Benefits of Blocking Someone on Pinterest
You can prevent the user from seeing your personal pins or boards.
You can keep the user away from commenting on your post. 
They will not be able to send you a message. 
You can stop the user from following your Pinterest account. 
You can keep your account safe from harmful Pinterest users. 
Why Should You Block Someone on Pinterest?
If they are spamming you with unwanted pins or comments
If they are being rude or harassing you
If you simply don't want to see their pins anymore
Still asking the same question, How To Unblock Someone On Pinterest? Read the complete post again and depending on your device type, follow one of my shared guides.